ISPG working in close co-operation with its producers pioneered Irish Organic Salmon Farming on the west coast of Ireland.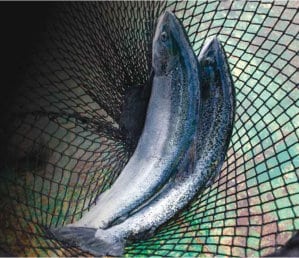 ISPG's suppliers, Mannin Bay Salmon Limited, Killary Salmon Company, Curraun Fisheries Ltd and Bradán Beo Teo., are located on the exposed western seaboard of Ireland in an area devoid of any man made industry leaving its waters pristine and clean. It is these raging Atlantic waters with their strong tidal currents that produce exceptional organic salmon which are sleek in shape and firm to the touch.
Mannin Bay Organic Salmon
Mannin Bay Salmon Ltd was the first salmon farm to commence organic sea farming in Connemara (West Coast of Ireland). Located just outside Clifden, a famous tourist area, this is where Alcock and Brown landed having completed the first transatlantic flight in 1919. Salmon are indigenous to this area and for generations have attracted anglers from all over the world.
Killary Harbour Organic Salmon
Killary organic salmon farm is located in a fjord in the West of Ireland in the heart of Connemara which forms a natural border between counties Galway and Mayo. It is 16 kilometers long and in the centre over 45 meters deep. It is one of the only three glacial fjords that exist in Ireland.The area contains some of Ireland's most awe-inspiring and dramatic scenery.
Kilkerrin Bay Organic Salmon
Bradán Beo Teo is a local company producing Kilkieran Bay Organic Salmon in the heart of the Irish speaking Gaeltacht of Connemara. The farm is located in Kilkerrin Bay, named in honour of Saint Kieran who had a holy cell (Cill Chiaráin in the local language) in the area hundreds of years ago.
Bellacragher Bay Organic Salmon
Curraun Fisheries Ltd is based in the remote Bellacragher Bay, County Mayo, on the west coast of Ireland. The farm benefits from the shelter provided from nearby Achill Island, which helps protect the fish against full exposure to the Atlantic Ocean. This wild and natural environment provides the perfect site to grow and nurture organic salmon.
All companies maintain the highest possible organic standards throughout the salmon's growing cycle, from egg to harvest.
What makes a salmon organic?
Organic Standards for salmon require farming conditions to be as close as possible to nature, having regard for food safety, animal welfare, and environmental sustainability.
A high tidal exchange rate (which is defined in the organic standards) characterizes the area in which the farms are situated and ensures that sea water continually flushes through the cages.
All farm sites are subject to annual environmental audits (water quality and seabed) to ensure environmental sustainability.
The fish are fed on an organic diet, which contains organic or natural ingredients only.